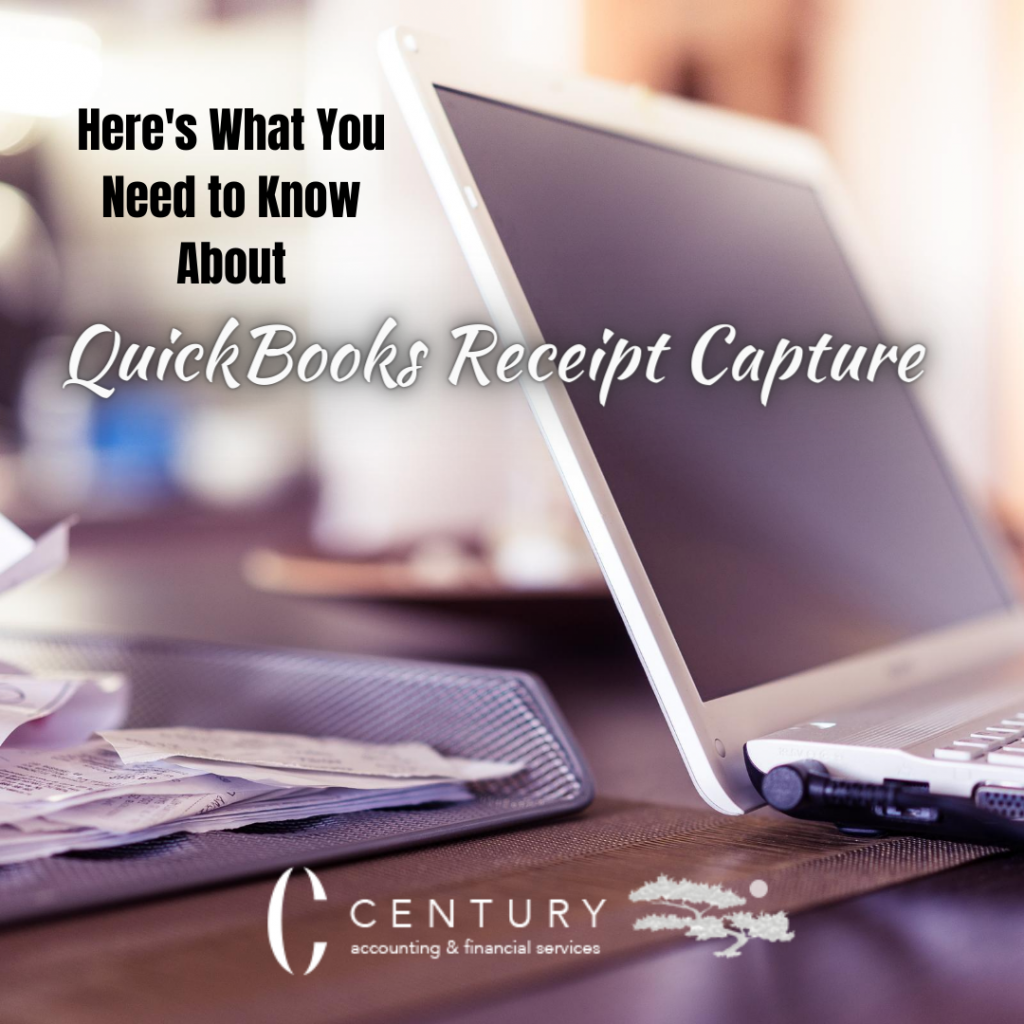 Keeping track of receipts is a headache every small business owner faces. Managing receipts is always a challenge for entrepreneurs who are busy, on the road, or just not as organized as they would like to be. Receipts end up EVERYWHERE: your desk, your car, your home, your office….the trash.
If you are running a business, receipts are essential. Business expenses must be tracked on a monthly basis. There is nothing more anxiety-inducing at tax time, for you and your accountant both than a shoebox full of receipts.
QuickBooks Online
Since tracking business expenses and receipts is such a common problem for companies of all sizes, QuickBooks now has a feature that makes keeping track of receipts much easier. Receipt Capture is a feature you will be familiar with if you have ever used QuickBooks Self-Employed and is even more comprehensive than just attaching receipts in QuickBooks Online.
With Receipt Capture, you can snap and store receipts digitally in QuickBooks Online to save hours inputting your small business expenses. Once receipts are scanned, uploaded, or even emailed to QuickBooks Online, they are automatically categorized and matched to transactions. You can also upload on the move, via the mobile app. The result? Everything is organized and ready at tax time – and best of all, there's no shoebox!
Receipt Capture
The Receipt Capture feature is available in all the QBO subscription levels, from Simple Start through Advanced, and is located in the Banking Center. There are three ways to capture receipts so that they can be matched to transactions and added to the bank feed, thereby tracking the expenses in QuickBooks.
Upload receipts or bills directly from your computers. You can drag and drop files or browse and locate.
Use your phone's camera to capture an image of the receipt and upload it via the QuickBooks Online app – one of the best business expense tracker apps. It's also included with your QBO subscription.
Send your receipts and bills to receipts@quickbooks.com. This option will require some initial set-up to get started.
Once uploaded, QuickBooks Online uses Optical Character Recognition (OCR) to scan the receipt files. QuickBooks OCR technology extracts the necessary data, such as the vendor and the amount, to create a transaction record allocating the purchase to one of your categories for business expenses.  You will review this information in the same manner that you check transactions in the bank feed.
Get help from a Certified QuickBooks ProAdvisor
If you are interested in getting started with Receipt Capture and would like some assistance, please reach out to us anytime to discuss QuickBooks Online training.
With an in-house QuickBooks ProAdvisor, our accounting firm can help you save time with tips like this and more.  We offer services from QuickBooks consulting and QuickBooks Online review to full-service bookkeeping, accounting, and tax services.
Whatever your QuickBooks needs, don't hesitate to give us a call.  Click below to view our Certified ProAdvisor's profile.
QuickBooks Certified ProAdvisor Profile – Century Accounting & Financial Services
If you enjoyed this post, check these out as well:
How to Expertly Manage Your Business's Bookkeeping with Little to No Experience
QuickBooks Quick-Tip #1 – Save Time by Creating a Custom Report
How To Use The New Pay Down Credit Card Feature In QuickBooks Online